Moose Pond's Courtesy Boat Inspection Program is running full steam ahead. Recognizing that prevention is the key to keeping invasive plants out of the lake, the association has wholeheartedly supported the program. In fact, the number of boat inspection hours here is among the highest in the region.
Wearing bright yellow shirts proclaiming "Courtesy Inspector," employees and some volunteers will check hundreds of boats this summer at both the Route 302 and Denmark launches. At Route 302, an inspector will be on hand from 8 am to 6 pm on weekends in June and then every day from June 29 to Labor Day, plus two more weekends into September. The Denmark launch will be staffed from Friday through Sunday until Labor Day.
The boat inspection program is paid for with grant money from the Maine Department of Environmental Protection and the Moose Pond Association membership. Last year, the grant was for $1,600 and the MPA contributed $11,860. The funds from the state come from the "milfoil sticker" that is purchased with boat registrations.
In 2014, the inspectors checked 1,250 boats in Bridgton and 367 in Denmark. Forty-eight plants were found, but none turned out to be invasive.
The CBI program at Moose Pond works in conjunction with the Lakes Environmental Association. Mary Jewett of LEA, manages the program.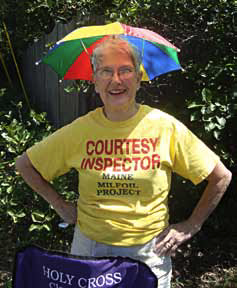 Questionable plants that are taken off of boats and trailers are given to LEA for identification. "Ninety-nine percent of the time we can identify it, but if we can't we send it to the VLMP (Volunteer Lakes Monitoring Program) to get verification. They can actually do genetic tests," Jewett said.
Identification of the plants is not as easy as it sounds. The bad ones often don't look that much different from the native plants in Moose Pond. Even lily pads are suspects. There is a type called yellow floating heart that is invasive and is now in waterways in Vermont, Massachusetts, New York and Connecticut. Vigilance, not complacence, is the key, Jewett said, noting that variable leaf water-milfoil is "right at our doorstep in Sebago Lake. The goal is for Moose Pond and Highland Lake and Trickey Pond and many others to never have to have plant control, just have a courtesy boat inspection program. Besides the harm invasive plants do to the lakes and ponds, Jewett pointed out that removing it is costly. "Once it is there, it is really expensive to control. There's the cost of the scuba divers and the boat and barriers. Prevention is always the best."
So, at the two boat launches this summer, boaters and passers-by will see the yellow shirts, worn by high school students working their first job, retired people doing a little summer work and MPA members volunteering their time, all with the same goal: to keep invasive plants out of the pond and educate the public.